Roborock starts the year 2021 with a new product presented at CES, the Roborock S7.
This new model presents revolutionary changes, especially in the scrubbing section, improving this function in such a way that the brand assures that it is very close to manual scrubbing.
The VibraRise system has been introduced for this purpose. Scrubbing with sonic vibration technology, which "scrubs" the floor with vibrations of up to 3000 times per minute.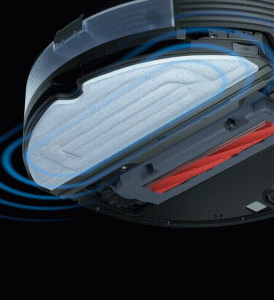 The next improvement is in the main brush, which replaces the traditional bristles with rubber fins, making it more durable and significantly improving cleaning.
In addition, the brush's buoyancy system has also been improved, ensuring that it sticks to the floor even on uneven floors.
It incorporates ultrasonic technology for carpet recognition. This system, together with the self-raising capacity of the mop, means that the user can decide at any given moment what the robot should do: either raise the mop, stop mopping and continue vacuuming the carpet, or avoid it and continue mopping. It should be noted that the mop elevation is 5 mm.
It maintains LiDAR navigation and does not present major changes in terms of design, autonomy and power, maintaining approximately 3 hours of use, with a suction power of 2500 Pa.
Compatible with Alexa, Google Assistant and Siri shortcuts.
Interestingly, this model will be compatible with the self-emptying base that Roborock will present in 2021.